Welcome to the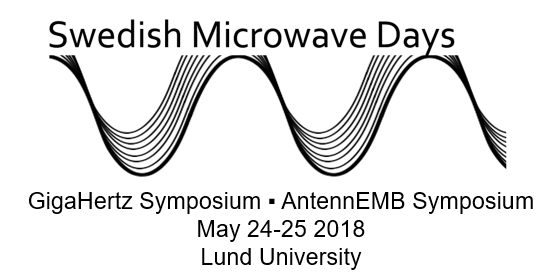 The paper submission deadline is extented to 14 March!
The conference will be arranged in Lund 24-25 May 2018.
Registration is now open
Program (overview, map)
Call for papers
---
The Swedish Microwave Days presents for the 4th time, the GigaHertz Symposium and AntennEMB Symposium into a major joint two-day microwave event, this time in Lund! With joint exhibitions, plenary sessions, invited speakers, and social events the Swedish Microwave Days will be the perfect meeting point for everyone who is interested to learn about recent advances in microwave, millimeter-wave, THz, or antenna technology or to hear about the recent advances in wireless communications, sensor, and emerging applications!​
Notice that Lund tend to have a very nice climate in May!
---
GigaHertz Symposium
GigaHertz Symposium is a biennial conference in the field of GigaHertz technology. This will be the 14th GigaHertz Symposium after its start in Linköping 1992. The scope is broad, ranging from devices to systems, and from single GHz frequencies up to several THz. The conference is a meeting place for researchers in the field from industry, academia, and research institutes. The format of the conference is a mix of invited talks and regular submitted papers. A number of leading researchers have been invited to give presentations of different hot topics in GigaHertz and TeraHertz technology.
The emphasis of GigaHertz is on new high-speed devices and circuits and their implementation in wireless communication, sensors and fiber optic communication systems. We also welcome submissions in emerging nanodevices, wireless and optical communication and antenna integration.
AntennEMB Symposium
AntennEMB, is the radio science conference on Antennas and Computational Electromagnetics organized by SNRV (Svenska Nationalkommittén för Radiovetenskap, the Swedish URSI Committee). The AntennEMB has been organized on a regular basis for more than a decade and the last conference was held in Linköping 2016 as part of the Swedish Microwave Days. The format of the conference combines invited key-note talks with original contributions from the conference participants in the form of oral presentations and interactive poster sessions.
The aim is to bring together people from industry, academia and other research oriented organizations with an interest in antennas and computational electromagnetics. The scope of the conference includes the development of computational methods, optimization algorithms and programming techniques, and all types of antenna technology, applications, theory and measurement techniques.
---
Contact: Erik Lind,

Erik.Lind@eit.lth.se (GHz)
Contact: Mats Gustafsson, Mats.Gustafsson@eit.lth.se (AntennEMB)
Contact: Anders Karlsson, Anders.karlsson@eit.lth.se (Sponsors and exhibits)